Never for money // Always for love….
Tom Peters x Seth Godin's RPOV8 (Remarkable Point of View in 8 Words)
Dad, husband, student, coach/teacher, historian, systems thinker
A little bit longer version…
I love teaching, coaching, and mentoring people. I also love ancient history. It took me awhile to get sorted but, I am finally starting to put it all together.
I am pursuing a degree in Ancient History at SUNY: Empire State College and plan to graduate in 2019.
My goal is to teach a Western Civilization or Classics course at a junior college.
Every semester I work with the 8th grade Home and Careers classes at one of my local Middle Schools on "Getting Their First Job"
I am super involved in girls' field hockey in the Rochester, NY area.
In 2017 I became an NFHS Certified Interscholatic Coach.
I am President of the Fairport Field Hockey Booster Club – 2016 Class A Section V Champions!
I am also the Director of our 18 team Summer Sizzle tournament.
I am the Team Parent for our daughter's U-19 travel team with Finger Lakes Field Hockey.
What am I doing now?
I am a project manager and certified Professional Scrum Master at Mitel.
Here's a Sprint Review and Planning deck I wrote that has almost 20,000 views on Slideshare. I am getting into DevOps and Site Reliability Engineering.
Tools and Academic Papers
Below are links to tools I use in my role as a project manager and presentations I've given on the way to my degree in History.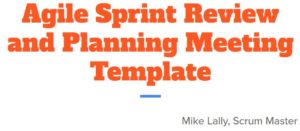 See my notes from from the books I've read